Our little house is always in a state of craft induced chaos. I'm messy, often distracted, and always have too much going on. Mix those ingredients with not enough time, no walls separating my work space from the rest of the house, and a bit of good ol fashioned laziness (my husband likes to sing the Leon Redbone song "Lazy Bones" to me) and you get our living situation. I wish I was neater, and actually feel very calmed by order and a minimal amount of stuff ontop of surfaces. I work better when things are neat and in their place, but I'm not good at cleaning up as I go and when you work 2 jobs and squeeze the creative stuff in- the last thing you want to do is clean up... that takes up precious crafting moments.
These rooms inspire me, make me yearn for a more grown up decore, they also make me realize at some point I probably need to have a studio that is separate from the rest of my life so I can have my cake and craft it too...
This Spanish Abode
reminds me a little bit of a loft I lived in a few years ago in Chicago and it was my slice of heaven. I really like being able to see most of my living space all at once.
I would be willing to have a T.V in our bedroom if it was beautiful like this
one
!
This s
weet little sewing
shed fills me with envy and guilt for complaining that I have no space to sew. I mean just LOOK at what she did with such a tiny spot! I've just found a new
fave blog
too!
I can never seem to get the wall colours perfect like
this room.
Also, I loooove shag rugs... but someone else in the house doesn't.... I guess the shag will have to go in my studio.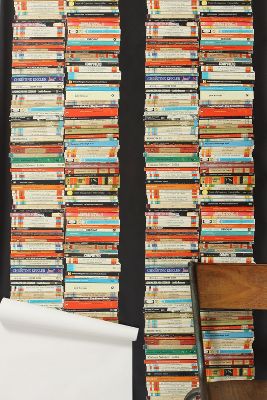 This wall paper from
Anthropologie
is AWESOME!!! I'm racking my brain trying to come up with a project for it... I think this would make perfect bathroom wall paper.
one of my dreams is to buy a house or loft or cabin in the woods. a space to truly call our own and fix it up and make most of the furniture with our own hands ( finding old stuff to fix up counts too) until then I'll just dream and work on being a neater more organized person.
tell me what kind of rooms are on your wish list?