In the name of expanding my horizons, I taught myself how to knit while I was working in Michigan two summers ago. I have two knitting books in my library ( the only two I kept after my stash purge earlier this year) that I use for reference
Stitch 'n Bitch: The Knitters Handbook
and
DomiKNITrix: Whip Your Knitting into Shape
by Jennifer Stafford
. By the way you can benefit from my stash purge as I'm giving away things all year for my blog followers and face book fans! Just go here for the instructions on how to win
I love this book, Jennifer makes me want to be really methodical and disciplined about how I knit. I love the Stitch 'n Bitch book too, it's really easy to understand and made the task of learning to knit less intimidating for me.
Knitting is the one craft I do just for fun and to relax myself. I think I like it so much because of the instant gratification factor- after only a few minutes clicking away with my needles I get giddy when I can see my project taking shape.
I am coveting these HUGE HUGE knitting needles from
Bagsmith
. I would love to get some super chunky wool yarn and whip up some beautiful things... imagine how quickly you could make something, well, once you mastered the large needles. Just LOOK at how crazy large these are!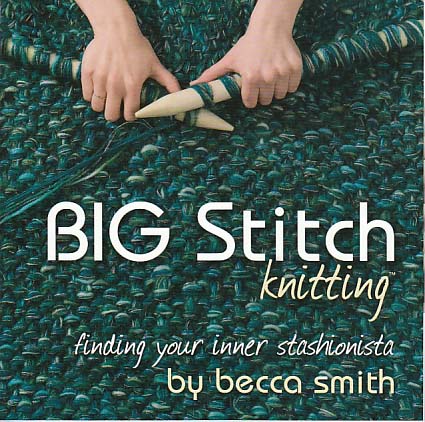 I am currently mastering DPN's (double point needles) and LOVE it! I am making an
I- cord
from cotton yarn, found on page 127 of the Domiknitrix book. Once I have a decent length going I'll post some photos of my work- perhaps on flikr.. which reminds me I have to get that thing in order.
Anyways here's my To Do List for this week:
- Knit a good amount of I-cord
- re hang shelves in my studio for better access and more storage
- sew zippers into pouches ( approx 100 of them)
- finish prototype banner for NOCM meeting on Wednesday
- take photos everyday on my way to work
- clean up Flikr and make it ready for public consumption
- shoot new screen for t-shirt design